Column by Ann for De Tijd : Blockchain makes business models more sustainable
A myriad of individuals converge at blockchain events, an occurrence not limited to Belgium. This technology finds application across domains, fostering sustainable practices in sectors like fashion while elevating creator recognition.
March 30, 2023 – De Tijd
My recent and forthcoming weeks orbit around the world of blockchain once more. A stint in Paris marked my presence at the Paris Blockchain Week, where I addressed the audience at an event spotlighting Metaverse Fashion Week (unveil more details through #MVFW23). Presently, I hold a slot among 35 speakers at the inauguration of Blockchain4Belgium, elucidating the profound impact of blockchain on diverse business paradigms
What consistently astonishes me is the sheer scale of these events. Paris once again beckoned 10,000 enthusiasts (merely three weeks post the NFT Paris event, which drew 18,000 attendees). Belgium, too, has embraced blockchain with fervor, boasting a professional cohort of about a thousand aficionados.
Thursday heralds a physical rendezvous, with 300 attendees assembling at Blockchain4Belgium, an initiative spearheaded by Mathieu Michel, the Federal Secretary of State for Digitization. Here, insights and requirements will be exchanged, paving the way for policy recommendations. The purview encompasses regulations, along with educational and sectoral support.
Blockchain, inherently a versatile technology, encompasses multifaceted applications. Notably, non-fungible tokens (NFTs) serve as ownership certificates within the blockchain realm. Naturally, cryptocurrencies like Bitcoin and Ethereum also have their role. My primary focus, however, pivots away from cryptocurrencies. I even believe it should be nearly invisible, a facet pivotal to seamless integration of blockchain technology into widespread business models. Increasingly, platforms offer dual payment options – cryptocurrencies and traditional fiat (euros, dollars, etc.).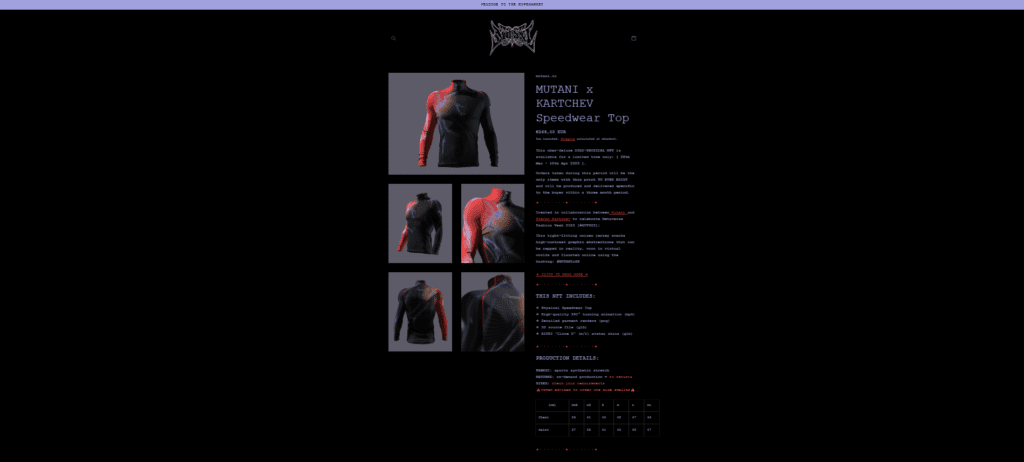 Phygital. Blending the Physical and Digital Realms.
For Metaverse Fashion Week we are launching a phygital with Mutani.This entails the simultaneous purchase of physical and digital assets, intertwined through a chip. This unique offering graces an ordinary e-commerce venue hosted on the Shopify platform. Thanks to our partnership with Belgian Venly, NFTs are available in our webshop, including a design cycling jersey, attainable in both physical and digital formats.
The buyer pays in fiat and does not have to go through complicated procedures. Immediately upon purchase, the buyer receives the NFT and its digital iteration, accompanied by a blockchain-linked certificate of ownership for the physical jersey. All of this is bundled into a digital wallet, generated for the customer and delivered straight to their email inbox, streamlining the entire process.
For our designers, this marks an evolution in crowdfunding, an advanced realm where digital prototypes carry no carbon footprint, circumventing overproduction. The certificate of ownership establishes a precious rapport between the consumer and their acquisition, transforming it from a disposable item into a cherished possession. Furthermore, this certificate enables future resale, with designers garnering royalties. As the second-hand market gains traction, smart contracts ensure the original creator's enduring involvement.
My curiosity is piqued regarding the cycling jersey buyers and their perception of the digital variant and accompanying NFT. As with any technological stride, adaptation to customer and corporate needs remains paramount. Government's role, too, is pivotal, albeit a work in progress.