Interview for Trends on European Horizon2020 project SCIRT: 'Recycling for the sake of recycling is not the solution'
Interview with Jasmien Wynants, Tom Duhoux (VITO) and Evelien Dils (VITO) in Belgian magazine Trends, written by Sarah Vandoorne.
Five Belgian and French clothing brands are joining forces with research institutes to put high-quality textile recycling into practice. From recycled discards they want to create and sell new designs. "Only if we work together is a circular economy achievable,".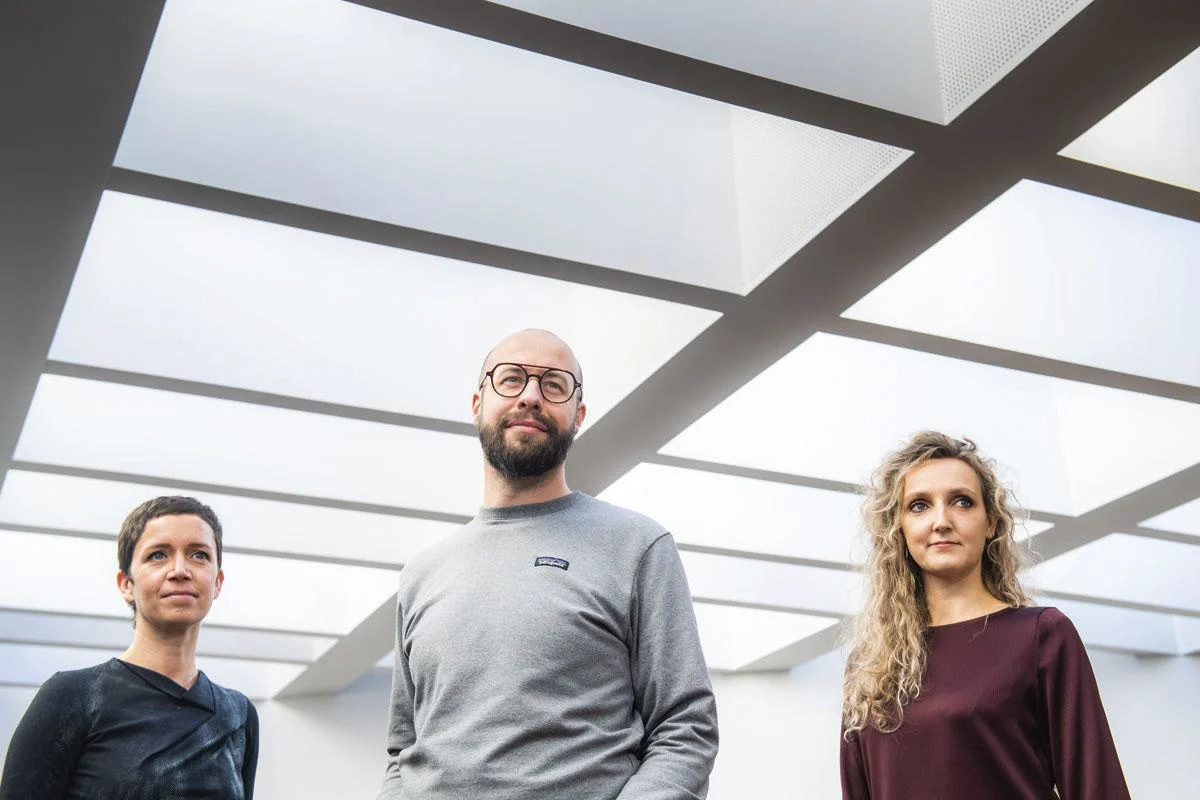 It is a towering ambition: to recycle fibers that were until now considered unrecyclable. Yet it is the only ambition that matters, according to Evelien Dils and Tom Duhoux of the research center VITO and Jasmien Wynants, sustainability expert at Flanders DC. "By opting for less uniform clothing, we can bring about change," says Jasmien Wynants. "Yes, we could have started a project to break down corporate clothing from one type of material, but then we would have been too unambitious." We don't participate in low-hanging fruit, says Evelien Dils either. "The European Commission wants to invest money to see what is possible, to push for change, see how far we can get."
With European support, just before summer VITO, Flanders DC and other research institutions, non-profit organizations and SMEs from five countries joined forces with five Belgian and French clothing brands: Decathlon, Petit Bateau, Bel&Bo, HNST and Xandres. Their journey was christened SCIRT, which stands for System Circularity & Innovating Recycling of Textiles. Freely translated: textile-to-textile recycling.
For years, industry specialists have been looking hopefully to the future of textile recycling. Although much is in motion, the basic premise remains deplorable. The process is expensive, energy- or labor-intensive, the supply is limited, and the quality is often inadequate because the process shortens the textile fiber. For the latter reason, each recycled fiber requires as much or even more new material to provide strength to the garment. With short, expensive fibers alone, you won't get a quality product. The result? Less than 1 percent of all collected clothing is actually recycled, according to figures from the Ellen MacArthur Foundation. That's not exactly hopeful.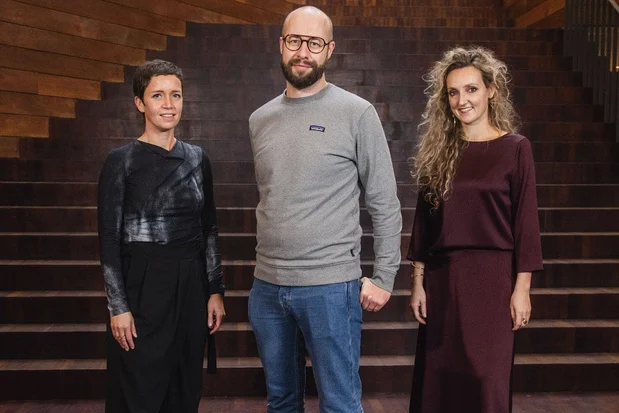 When progress is made in recycling, it often involves monomaterials. These are fabrics that consist of one type of fiber, such as 100 percent cotton, a natural fiber, or 100 percent polyester ¬ a synthetic fabric. A mixture of the two – the popular polycotton – is a lot harder to recycle. Never mind taking a mixed fabric of wool, polyester and elastane in hand, as Xandres does with a pair of pants in the study.
"Xandres uses that fabric mix frequently, which means that in the long run it would not stick to just one type of product," admits Wynants, who in addition to her part-time job at Flanders DC assists the fashion house from Destelbergen as a freelancer. "I do wonder if the research institutes expect that all five brands will succeed in their objective, because that remains to be seen," adds the sustainability expert.
"It is, of course, a study," Dils responds. "It may be that we have five finished products, it may be that we only have a few that give the desired result. The bottom line is that we are trying. Possibly certain compositions will not get 100 percent recycled, but even then we can measure what percentage is maximally achievable."
Trying doesn't just mean recycling for recycling's sake. "Companies want to get rid of excess textiles as efficiently as possible, so they look for low-value solutions," says Tom Duhoux. That has provided them with stability so far. They were able to process their waste streams at a reasonably constant speed into products of reasonably homogeneous quality at a reasonably fixed price.
"Recycling for recycling's sake has never been the solution," says Duhoux. He calls that mindset "recycling 1.0," an outdated process. Low-value solutions are not exactly synonymous with circular. "Hence the need for recycling 2.0, where we look at what the brands want and the recycling process is tailored to the requested quality," defines Duhoux. Evelien Dils adds: "A lot of things are already coming onto the market under the banner of the circular economy, but if there is no demand for them, it is by definition not circular."
Investing in recycling takes time and money. "Only by working together is a circular economy feasible," is Jasmien Wynants convinced. These are collaborations that did not just spontaneously arise, says Tom Duhoux of VITO. "Everyone seems to be waiting for each other. Is the demand big enough? Are the brands on board with this? I understand that an SME in, say, West Flanders, thinks: how can we contribute to this? But by bringing in all the know-how and supporting machine builders, we find solutions together."
The bulk of the investments are for the machine builders, such as Valvan Baling Systems in Menen. That previously developed Fibersort, a machine that can check what composition a pair of pants or T-shirt has. Sorting clothing by fiber is an important stage before recycling takes place, SCIRT's pilot project shows. An earlier 2020 report by Circle Economy, which conducted research based on data from the Fibersort technology, confirms this. "Machine builders like Valvan get direct contact with potential customers through our project. That's interesting for them," Duhoux points out. "The goal is to increase recycling. For that, SCIRT wants to be a lever."
'We are still at the stage where people are filling bags full of bargains every month or even every week every time they pass a Primark' Jasmien Wynants, Flanders DC
Combination of techniques
Sorting is followed by recycling. In its report, the Dutch Circle Economy talks about mechanical and chemical recycling. The Belgian textile institute Centexbel also lists thermomechanical and thermochemical recycling. Together with the German Ecologic Institute, the research institutes from Belgium – Centexbel and VITO, two research partners of the European study DG Grow – looked into the advantages and disadvantages of each technique. Classic mechanical recycling weakens the quality, innovative chemical recycling weakens the quantity. Especially the latter technique requires a lot of money and energy. Thermomechanical recycling requires less input, both financially and ecologically, but you can only achieve it with dark fabrics of the same composition. The technique is very sensitive to fiber contamination, so discards are not a thankful input source.
"This study is not a final report," warns Duhoux. It is not a classic ranking, he emphasizes. But what is the solution? "All technologies in combination, tailored to the desired end product," the researcher concludes. "In large volumes, mechanical recycling continues to have its place, despite its drawbacks. In small volumes, as with SCIRT, we are more likely to look at other, less traditional forms of recycling."
Before scaling up, therefore, a reduction stage is needed. This is precisely why the researchers are working with a limited number of brands to conduct research. "This is not just a production issue," Dils adds. "It is not our intention here to just produce five garments once and be done with it. In addition to the technology, we are also focusing on measures that will make the transition financially feasible."
High-quality recycling requires investment, Dils knows. Policy plays a role in this. In Belgium, it is mandatory to collect textiles separately. From 2025, it will be mandatory throughout Europe. But designers, brands and consumers also have to be on board. Dils: "In terms of consumption, little has changed in recent years, despite all the communication. That's why we make new garments from discarded goods, so-called post-consumer textiles."
That too is an ambitious goal, Jasmien Wynants believes. "You can also manufacture preconsumer textiles, from unsold garments and production waste. But then you miss out on an enormous amount of textile." Designers today are admittedly focusing more and more on recyclable design, notes Flanders DC's sustainability expert. "But those are clothes that should only be recycled in five or ten years. Until then, we're stuck with everything that's already made. We're still at the stage where people fill bags full of bargains every month or even every week every time they pass a Primark."
There are companies with a lot of manufacturing waste. They can repurpose that and then claim that they are working with recycled raw materials. But that seems to me to be quite a perverse effect' Tom Duhoux, VITO
"We are focusing on post-consumer textiles because that amount collected will only increase," says Tom Duhoux. "It's good to start thinking now about how we can recycle non-reusable textiles to the highest possible quality." A useful side effect is that consumers and brands are also sensitized in this way.
An asset of a project like SCIRT is that it tries to avoid greenwashing companies. "There are companies with a lot of production waste. They can reuse that and then claim that they are working with recycled raw materials," Duhoux believes. "But that seems to me to be quite a perverse effect."
1 percent of collected clothing is actually recycled, figures from the Ellen MacArthur Foundation show.